Radiating Change:
Building the Future of LMDA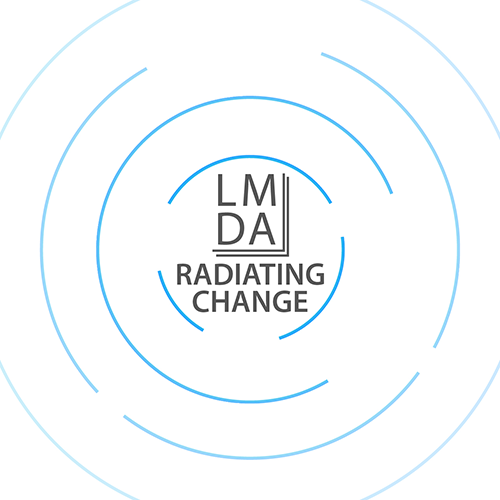 Two Ways to Show Your Support!
Share Your Reward Points with Us
Dramaturgs and Literary Managers tend to be imaginative creatures. We imagine a play on stage as we read it on the page, we imagine the effects of a rewrite as we talk with writers, we imagine potential audiences as we watch rehearsals. Lately, LMDA's Board and Executive have been imagining what this organization could be with greater financial support. These past few years have seen LMDA growing in exciting ways, and after several generous donations, we are on the precipice of expanding our operating budget.
To this end, we would like to invite you to join us in RADIATING CHANGE through the work LMDA does and imagines doing!
The Radiating Change campaign started as a matching donation program, led by an anonymous donor and generously matched by outgoing LMDA Board Chair Brian Quirt, and his partner Nancy Webster. After our call to action, we were able to match the initial gifts to raise a total of $14,725. With this year's fundraiser, we aim to double this amount, totaling nearly thirty thousand dollars.
And thirty thousand dollars allows us to imagine a whole lot for the future of LMDA:
We imagine a more accessible LMDA.

Inspired by the translation efforts led by the LMDA Mexico team, LMDA strives for similar translation availability at future conferences as well as other programming. Additionally, the next conference is exploring adding ASL interpretation to some of its offerings. And LMDA's website, frequently the first point of entry for new LMDA'rs, has significant potential for increased accessibility as well.

We imagine a more innovative LMDA.

Programs like Dramaturging the Phoenix and the International Dramaturgy Lab have offered impactful opportunities for LMDA members and dramaturgs around the world. Increased financial support for these programs and others will expand their reach and deepen their thinking. 

We imagine a more equitable LMDA.

As a volunteer-led organization, we are incredibly grateful for the work of our Board and Executive Committee, who have dedicated countless hours to our membership! This work has recently included expanding the employment tools and fundraising to disburse microgrants in a time of need. With the resources needed to engage field experts, compensate consultants, and financially bolster the efforts of our sole staff member, LMDA will take a large step towards equity within its operations. 
Our fundraiser focuses on capacity building. Money raised will go directly to continuing LMDA's efforts toward accessibility, innovation, and equity through its programs and community. There is plenty that the LMDA leadership imagines that we might be able to do in the future, but there is only so much that we can do with our current resources. Donate now to the Radiating Change campaign, and help us continue our work across this organization, this industry, and beyond.