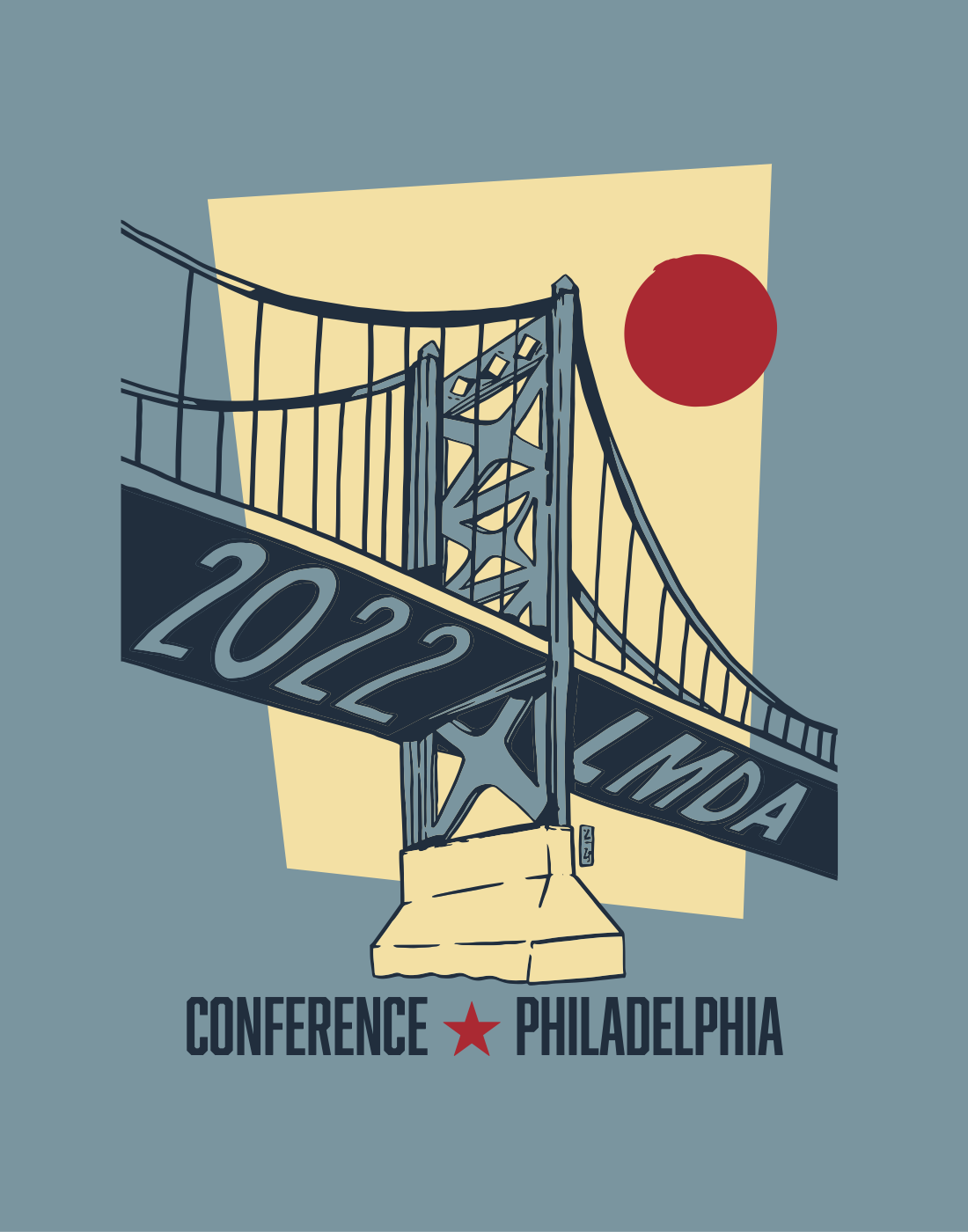 Performance Outside the Proscenium
July 20-24, 2022 • Online & Philadelphia, PA, USA
On the Traditional Lands of the Lenni-Lenape
Join us to help plan, organize, and execute the Conference!
---
Questions? Attend one of the online Conference Q&As:
The Literary Managers & Dramaturgs of the Americas (LMDA) has grown over 30+ years to become a multi-country service organization for artists working as dramaturgs and in many associated fields in the performing arts and beyond. Similar to the 2021 event, the 2022 conference will mix online synchronous and asynchronous content with an in-person gathering.
LMDA's mission with this ground-breaking gathering is to ignite a global conversation about the impact / purpose / process / evolution of work outside of the traditional "theater" space. This conference will ask participants to examine how space impacts the dramaturgy of the work, and how work lives, breathes, and evolves in different locations. For example, we will be discussing digital theatre, touring shows, cabaret, circus, online performance, outdoor theater, site specific work, burlesque, museum performance, installation performance, and more.
Call for Proposals: December 1, 2021-March 15, 2022
Watch our website and listserv for further information beginning December 1.
"Performance Beyond the Proscenium" will seek proposals for conference sessions including panels, roundtables, workshops, performances, and other dynamic conversations. We are interested in engaging with artists from around the globe to explore ways in which dramaturgy and new work creation is practiced. For example, we will be discussing touring shows, cabarets, online performance, outdoor theater, site specific work, museum shows, circus, installation performance, and more.
"Performance Beyond the Proscenium" will feature digital asynchronous content available from July 20, 2022, digital synchronous content on July 21, 2022, and an in-person gathering from July 22-24, 2022 in Philadelphia, the traditional lands of the Lenni-Lenape, some of which will be live streamed.
Proposals for the asynchronous digital content and proposals for the in- person gathering will be accepted December 1-March 15, 2022, 11:59 PM EST. All accepted applicants will be notified of the committee's decision in April 2022.
For Asynchronous Digital Content ONLY: You will be responsible for assembling the content and submitting it to LMDA as a video in a format which we can post for members, preferably mp4. The video will be due by July 8, 2022. Content will be available to registrants by July 20.
If you would like to participate in the Hot Topics, Playwrights on the Radar, or the General Meeting synchronous digital sessions, watch the LMDA listserv and newsletter for proposal deadlines.
Volunteers will be needed to help both before and during the Conference. Volunteer forms will be available in the fall of 2021. Watch this website and the listserv for details.
Conference Chair: Jacqueline Goldfinger
Si necesita esta información en Español, comuníquese con: lmdanyc@gmail.com.
Tags:
News