Performance Outside the Proscenium
International Performing Arts Conference
Members and Non-Members Welcome
July 20-24, 2022 • Online & Philadelphia, PA, USA
On the Traditional Lands of the Lenni-Lenape
Philly Metro Region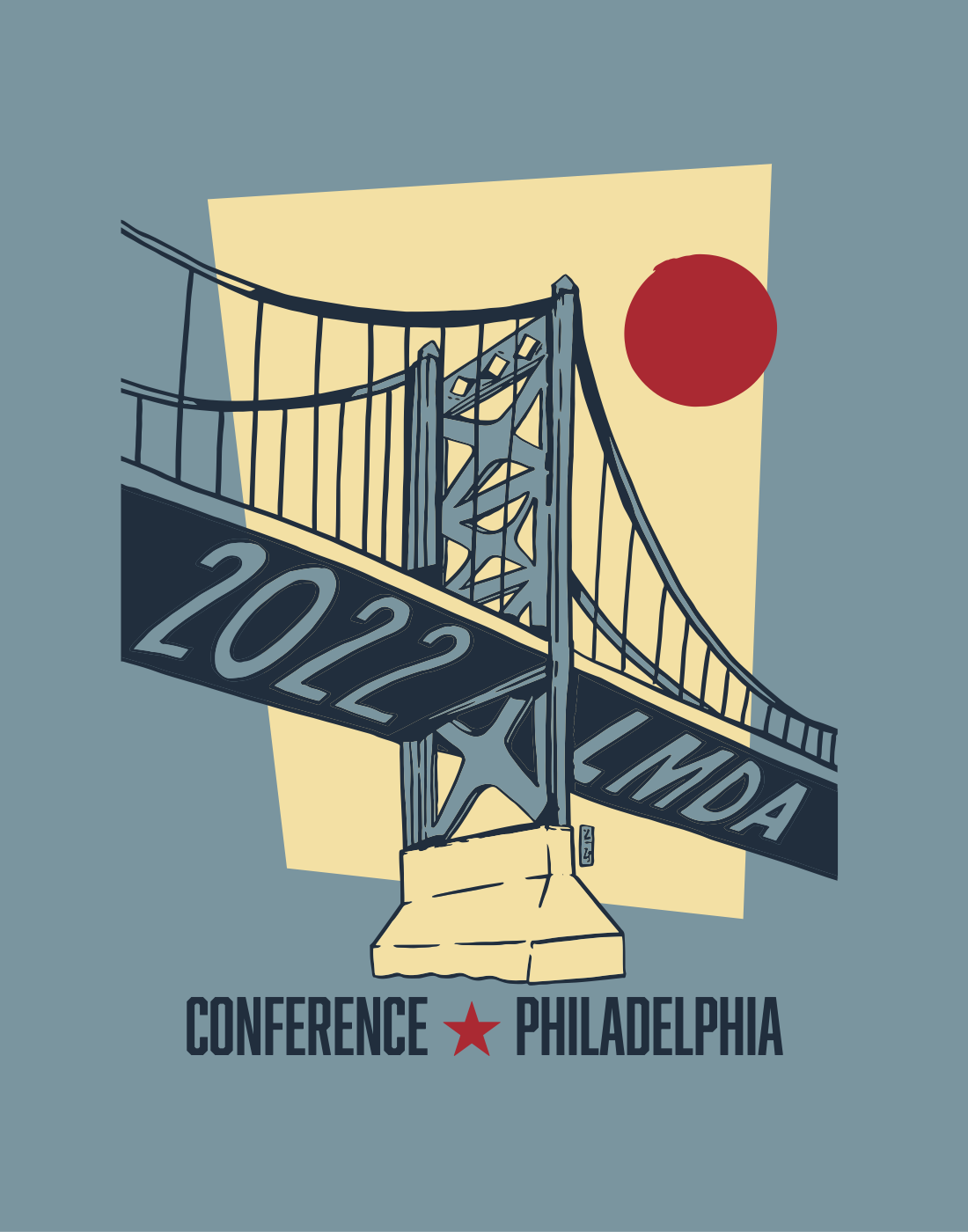 Early Bird Raffle!
If you register for the LMDA In-Person Conference during Early Bird Registration (March 23 — May 31), your name will be entered into a raffle for gift certificates to local businesses!
For over 20 years, LMDA has been at the forefront of creating connections, building bridges, and supporting the rigorous exchange of ideas across the performing arts in the U.S., Mexico, and Canada. While LMDA was originally an organization for literary managers and dramaturgs, it has bloomed into an in-person and virtual platform that supports all dramaturgically-minded performing artists and administrators - no matter how they identify in terms of artistic labels or where they live.
Early Bird Registration rates end on May 31. Register now to save $25-75 on Conference packages. If you are attending with a Service Companion or other Support Individual, they get in free.
LMDA's mission with the 2022 ground-breaking gathering is to ignite a global conversation about the impact / purpose / process / evolution of work outside of the traditional "theater" space. This conference will ask participants to examine how space impacts the dramaturgy of the work, and how work lives, breathes, and evolves in different locations. For example, we will be discussing digital theatre, touring shows, cabaret, circus, online performance, outdoor theater, site specific work, burlesque, museum performance, installation performance, and more.
In addition, to keep the conversation going beyond the Conference and across the field, LMDA has partnered with the Network of Ensemble Theaters (NET), Directors Gathering (DG), and the Theatrical Sound Designers and Composers Association (TSDCA). Anyone who registers for the 2022 LMDA Conference will have the opportunity to activate a free membership to each organization. Details will be available in your registration confirmation email. Also, all LMDA members can receive a discount for memberships to TCG and NPX. Check your member benefits for details.
Conference Schedule Overview
Pre-Conference Deadlines
May 31: Last Day for Early Bird Discounted Registration
June 1-June 24: Regular Registration for In-Person Conference Options
June 30: Deadline to Apply to be an In-Person Conference Volunteer
June 1-August 1: Regular Registration for Digital Conference Options
July 20: Last Day to Register for Gala unless we sell out sooner (open to public)
Conference Begins!
July 20: All async videos released for Digital Conference Participants
July 21: Online day of content on Zoom, free to All LMDA Members and Conference Participants
July 22: In-person Philly activities, free to All LMDA Members and Conference Participants (locations ADA compliant)
July 23: In-person Philly activities (locations ADA compliant)
July 24: In-person Philly activities (locations ADA compliant)
July 24 PM: Annual Gala, $50/per person, open to public (location ADA compliant)
August: If any of the async video presenters want to do a Zoom live Q&A then we will schedule them for August. All Digital Conference Participants will receive an invitation to these events.
Here are links to more details about the Conference:
Coming Soon: List of Titles in Pop-Up Book Shop at Conference Hub
Parent-Caregiver Support
LMDA + PAAL will release information on support services in Philly and care subsidies later this spring.
Scholarships
We are thrilled to announce our 2022 LMDA Conference Scholarship Awardees. This year, we were able to triple our scholarship awards thanks to generous donors.  Please consider donating to LMDA when you register for the Conference to help us continue supporting a wide-range of artists in our field.
SCHOLARS:
Alissa Klusky, ECD, Olney Theatre Center
Emma Bilderback, ECD, Universitiet van Amsterdam
Gabrielle Lawlor, ECD, University of Central Florida
Jack Truman, Minnesota State University
L. Nicol Cabe, ECD, Flinders University
Laura Kressly, ECD, The Play's the Thing UK
Lydia Cochran, ECD, Milwaukee Rep
Margo Skornia, ECD, University of Iowa
Maxwell Plata, ECD, Arizona State University
Mitchell Nease, ECD, Pig Iron School
Rob Silverman Ascher, ECD, University of Iowa
Sally Ollove, Bearded Ladies Cabaret
Sara Ziglar, ECD, Red Clay Dance Company
Shawn Sprankle, ECD, Freelance
Sloan Elle Garner, ECD, Villanova University
Wenke (Coco) Huang, ECD, Northwestern University
Philly & South Jersey Students: We have applied for additional funding from local organizations to provide scholarships for local students. We will post details if we get the grant(s).
Missed the Scholarship Deadline? Email us at conference@lmda.org and ask us to add you to the Scholarship Wait List. Let us know how much support you are seeking ($25-$250).
Sign-Up to be a Volunteer at the In-Person Conference: June 30 Deadline
LMDA is run by volunteers, one paid administrator, and a few artists with small stipends. We rely on the volunteer labor of members and collaborators to provide programming and other opportunities to our community. This allows us to keep membership rates low and other activities accessible. We know that your time and energy is a precious resource. We are asking you to just volunteer for 2-4 hours during the entire Conference Weekend.
We owe an enormous debt of gratitude for the Philly Volunteers who have donated countless hours to producing the Conference. Special thanks to Philadelphia Regional Reps Alix Rosenfeld and Liana Irvine. Also, shout out to the Volunteer Conference Committee Bryan Moore, Lynde Rosario, Jenna Rogers, Anne Morgan, Martine Kei Green-Rogers, and Sally Ollove, and all of our amazing Pre-Conference Volunteers: Emily Dzioba, Jonathan Edmondson, Kate Mulley, Marjorie Bicknell, Oona Hatton, Shawn Sprankle, Alexis Buncich, Caili Vrow, Daria Jocelyn Dockery, Emma Sue Harris, Gregory Pernicone, Jihye Kim, Karen Hernandez, Katie Mallinson, Megan Thornton, Megan St. Amand, Sara Freeman, and Will Forrest.
What Else Can I See in Philadelphia?
The above Conference Poster was designed by Philadelphia Artist Keni Thomas AKA Thomcat23. You can purchase a poster and other LMDA Swag in our Online Shop by clicking here.
Conference Chair: Jacqueline Goldfinger
Si necesita esta información en Español, comuníquese con: lmdanyc@gmail.com.
Tags:
News